Michael Paterniti este unul dintre scriitorii mei preferaÅ£i. Åži nu folosesc aiurea cuvântul. Textele lui – pe care vi le-am mai recomandat – sunt o combinaÅ£ie rară dintre documentare jurnalistică ÅŸi artă. Interviul publicat săptămâna asta de Nieman Storyboard, partea I ÅŸi II, nu face decât să confirme asta. Iată câteva pasaje care ar trebuie să ne facă să ne simÅ£im mici.
Despre editori şi o muncă străină majorităţii celor care poartă acest titlu în România:
I've had like a magical relationship with a couple of magazine editors. There's a story I did early on for Esquire. It started in second person and after the first section it went into a very typical magazine setup – I went to Dodge City to live in this motel because I thought this was ground zero for the new American racism – so it was this establishing graf, this nut graf, and I sent the opening to my editor and got this one line back like, "You're not interesting. Take the 'I' out of the story." And it just exploded, this story. I finished it very quickly. (…) A really great editor is an editor who's editing the story right from the very beginning, the minute you mention the idea.
Despre cum a scris "The Long Flight of 111 Heavy":
I went into this little fishing village, and no one would talk to me. There was this kind of hostility because they were tired of talking about this horrific thing. And I was driving out and it was spitting rain, and the sky was kind of that grayish purple, and all the clothes on the line – the wind had filled all the clothes. So they were just hovering. And that's what I thought when I drove by; I thought I was seeing bodies in the air. And that was it. It was really that image that started it for me.
Despre un posibil fir roÅŸu al textelor lui:
I know for a while there I was writing a lot of death stories. I was struggling with that. Especially when you have little kids – it just kind of hit me, my own mortality. But more than that, my need to go deeper there. I don't think I was consciously saying, "I've gotta do a death story," but I was drawn repeatedly to that, and I still am, kind of. But again that goes to that Walter Benjamin essay where he says in death the story kind of gets released. There's something very freeing to me as a writer when you come late to the story.
Duminica trecută mi-am printat vreo 6-7 articole – majoritatea portrete de actriÅ£e – ca să fur ceva inspiraÅ£ie pentru un text pe care urma să-l scriu. Printre ele am strecurat un text ce ÅŸtiam că va fi altceva ÅŸi l-am lăsat spre mijlocul sesiunii de lectură, când bănuiam că voi avea nevoie de o schimbare de ritm.
Åži Michael Paterniti nu m-a dezamăgit. Textul, "He Might Be A Prophet. That, Or The Greatest Chef In The World", e despre mâncare, dar a-l prezenta aÅŸa e a-l jigni.
Paterniti este un scriitor-senzaţie, cu o capacitate rară de a te implica în textul pe care îl scrie. Profunzimea pe care o imprimă unei călătorii de-a latul Americii cu creierul lui Einstein (serios!) şi senzaţia de nelinişte pe care ţi-o produce când recreează prăbuşirea unui avion sunt dovezile unor aptitudini jurnalistice fenomenale.
Textul pe care l-am citit duminică e din 2001, dar e valabil ÅŸi azi, pentru că spune povestea unuia dintre cele mai faimoase restaurante din lume – El Bulli – ÅŸi a bucătarului-artist-nebun care-l conduce. Dar nu e "doar un portret". Nici "doar un articol de călătorie". E o încercare de a reda în cuvinte dorinÅ£a lui Ferran Adriá de a găti ÅŸi de a te servi într-un mod în care te face fericit.
La El Bulli, se spune, mâncarea – niciodată identificabilă vizual, pentru că Adriá e mai degrabă chimist decât executant de reÅ£ete – te poate face să plângi de fericire. Iar Paterniti încearcă să transmită asta în scris. Dacă reuÅŸeÅŸte, să-mi spuneÅ£i voi. Eu am rămas cu impresia ca tot ce mănânc e o insultă adusă posibilităţilor culinare.
Un fragment mic dintr-un text mare (nominalizat în 2002 la un National Magazine Award pentru "profile writing"):
And here's what it tasted like: It tasted like a first — the first time you dove into an ocean wave or made something good or touched her lips. The first time you jumped from fifty feet, that feeling in the air when you forgot the gorge was beneath you, air and sun rushing, and you kept falling, and you opened your eyes and you were in the bright, underwater lights of a kitchen in Barcelona before an elfin man with hair springing from his head, quail yolk in your belly, and you could think of only two words to say, but you said them at least two times before you stopped yourself.

"Thank you," you said, laughing. "Thank you."
Da, am mai scris despre Paterniti.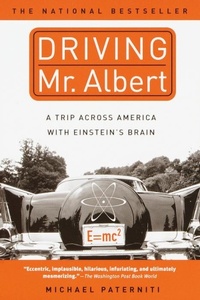 Pe Michael Paterniti l-am descoperit târziu (în comparaÅ£ie cu anii de când scrie), într-un zbor de la BucureÅŸti la New York. Citeam o antologie/istorie de jurnalism narativ compilată recent de Norman Sims ÅŸi unul din texte – primul de altfel – era "The Long Fall of One-Eleven Heavy" (pe care l-am mai recomandat odată). Articolul, despre prăbuÅŸirea unui zbor Swiss Air a fost publicat în Esquire în 2000 ÅŸi a fost finalist pentru un premiu de scriitură.
Nu auzisem de Paterniti până atunci ÅŸi primul lucru pe care l-am făcut când am ajuns acasă a fost să-l trec prin Google. Rezultatul a fost o inundaÅ£ie de referinÅ£e la "Driving Mr. Albert", un articol în Harper's (premiat în 1997) ÅŸi apoi o carte care dezvoltă articolul (în 2000). Subiectul? Michael Paterniti (scriitor) ÅŸi Thomas Stoltz Harvey (un octogenar anatomo-patolog) fac o călătorie de pe-o coastă a Americii pe alta, având în portbagaj creierul lui Albert Einstein.
Harvey este omul care în 1955 i-a extras creierul lui Einstein ÅŸi nu l-a dat înapoi niciodată – nici executorilor testamentului, nici familiei, nici universităţii Princeton, în spitalul căreia a murit savantul. Paterniti auzise povestea creierului lui Einstein dar crezuse că e o legendă urbană – asta până un vecin i-a confirmat că există într-adevăr un doctor care Å£ine bucăţile în două borcane mari de prăjituri (tăiate în multe bucăţi mici).
Cartea e o poveste pe mai multe planuri. A unui bărbat a cărui viaţă a fost dominată de creierul unui om mai mare decât el. A personajului invizibil dar gigantic, Albert Einstein. A unui jurnalist tânăr (Paterniti avea 32 de ani pe atunci) care îşi caută un sens conducând un Buick Skylark de la est la vest. E povestea unei călătorii în spaţiul şi timpul american şi o poveste despre spaţiu şi timp în general (doar vorbim despre Einstein).
Paterniti e nu doar un reporter excelent ci ÅŸi un scriitor foarte bun. Proza lui – înflorată ici-colo cu o serie de reflecÅ£ii – e captivantă ÅŸi puternică.
Mai jos un fragment din articolul din Harper's. Paterniti ÅŸi Harvey au plecat către California dar octogenarul nu arată nici un semn de oboseală. Dacă ar adormi, Paterniti ar putea să oprească ÅŸi să arunce o privire în rucsacul din portbagaj unde e cutia de plastic în care stă creierul.
Despite my expectations that Harvey will sleep a good deal, what I soon realize is that he's damn perky for eighty-four and never sleeps at all. Nor talks much. In this age of self-revelation, he eschews the orotundity of a confessor.

He speaks in a clipped, spare, almostpenurious way — with with a barely perceptible drawl from his midwestern childhood — letting huge blocks of time fall in between the subject and the verb, and then between the verb and the modifier of a sentence. He pronounces "pleasure" play-sure, and "measurements" may-sure-mints, When my line of questioning makes him uncomfortable, he chuckles flatly like two chops of wood, "Heh-heh," raspily clears his throat, then says, "Way-ell . . ."

(…)

I admit: this disappoints me. Something in me wants Harvey to sleep. I want Harvey to fall into a deep, blurry, Rip Van Winkle daze, and I want to park the Skylark mothership on top of a mountain and walk around to the trunk and open it. I want Harvey snoring loudly as I unzip the duffel bag and reach my hands inside, and I want to – what? – touch Einstein's brain. I want to touch the brain. Yes, I've said. it. I want to hold it, coddle it, measure its weight in my palm, handle some of its 15 billion now-dormant neurons.

Does it feel like tofu, urchin, baloney? What, exactly? And what does such a desire makeme? One of the legion of relic freaks who send Harvey letters asking, sometimes begging, for pieces of the brain? One of the pilgrims whocome from as far away as Japan or England or Australia to glimpse it?
E imposibil să faci o listă cu cele mai bune articole de revistă publicate vreodată, dar încercarea asta e demnă de lăudat. Am citit majoritatea bucăţilor din lista asta şi da, te cam dau pe spate. Dacă aveţi disponibilitatea să citiţi măcar trei bucăţi în viitorul apropiat, încercaţi-le pe astea:
* Richard Ben Cramer, What Do You Think of Ted Williams Now?, Esquire, 1986.
* Michael Paterniti, Driving Mr. Albert: A Trip Across America with Einstein's Brain, Harper's Magazine, 1997.
* Gene Weingarten, Fatal Distraction: Forgetting a Child in the Backseat of a Car Is a Horrifying Mistake. Is It a Crime?, The Washington Post Magazine, 2009.
Alte recomandări aici.
PS: Oare am putea să începem o listă românească? Subiectivă, ca deh, aşa sunt şi astea americane.
Pentru cei care vor să-şi petreacă vacanţa citind nişte jurnalism memorabil, o selecţie de 10 texte cu care să vă ocupaţi serile cel puţin până în prag de Anul Nou:
1. Michael Paterniti, Driving Mr. Albert. Autorul pleacă într-o călătorie iniţiatică de-a latul Statelor Unite împreună cu creierul lui Albert Einstein.
2. Caitlin Flanagan, Are you there God? It's me Monica. AÅŸa se scrie comentariu cultural. Da, e despre sex oral. Åži despre Bill Clinton.
3. Michael Lewis, Jonathan Lebed's Extracurricular Activities. Un puÅŸti de 15 ani dă peste cap sistemul financiar american.
4. Jon Krakauer, Into the Wild. Povestea lui Chris McCandles, care a plecat în sălbăticia Alaskăi şi nu s-a mai întors. Întâi articol de revistă. Apoi carte. Apoi film.
5. Tom Junod, Angelina Jolie Dies for Our Sins. Considerat de unii critici cel mai prost portret făcut vreodată. Nu sunt de acord.
6. Emily Nussbaum, Neil Patrick Harris. Cum a ajuns Neil Patrick Harris (Barney din How I Met Your Mother) un actor care a spulberat stereotipurile.
7. Buzz Bissinger, Shattered Glass. Povestea unui jurnalist care a inventat aproape tot ce a scris.
8. Zadie Smith, Dead Man Laughing. Un eseu personal tulburător despre viaţă, moarte şi comedie.
9. Gery Marzorati, The Future of Long Form Narrative. Despre cine mai scrie, cine mai citeşte şi cine mai plăteşte pentru jurnalism narativ în vremurile de azi.
10. Jeanne Marie Laskas, This is Paradise. Despre gunoi, unde se duce când pleacă din casele noastre şi cine se ocupă de el.
Am fost puţin leneş cu aceste lecturi de weekend. De fapt, trăiesc de ceva vreme cu o situaţie foarte bine punctată de un personaj pe care l-am intervievat recent: am ajuns să scriu mai mult decât să citesc. E de discutat pe tema asta. Până atunci:
* Am descoperit acum o lună un articol fantastic scris de Michael Paterniti în 2000 pentru Esquire: "The Long Fall of One Eleven Heavy". Articolul e despre prăbuÅŸirea zborului Swiss Air 111. Scriitura e cutremurătoare. Paterniti scrie acum pentru GQ.
* Le povesteam ieri cursanÅ£ilor mei despre cum trebuie să găsească lucrul concret care să ilustreze o idee mare. Nu poÅ£i scrie "despre graffiti" sau "despre încălzirea globală". PoÅ£i scrie în schimb despre un graffer ÅŸi bucata lui preferată, sau despre cum au ajuns francezii să planteze vii în Anglia pentru că e prea cald la ei. Ca exemplu  de ilustrat o idee mare printr-o chestie tangibilă le-am dat o serie din The Oregonian care explică globalizarea ÅŸi criza economică de la sfârÅŸitul aniilor '90 urmărind un cartof prin lume – din America în Asia. Se numeÅŸte "The French Fry Connection" ÅŸi a câştigat un Pulitzer.
* Åžcoala unde am făcut masterul împlineÅŸte anul ăsta 100 de ani. Cu ocazia asta s-au gândit să-ÅŸi scrie o istorie ÅŸi l-au rugat pe unul dintre experÅ£ii lor în jurnalism de investigaÅ£ie să o facă. Concluziile lui despre toate conflictele de interese cu care s-a zbătut sunt folositoare oricui trebuie să scrie "despre ai săi".