Panorama, un experiment
Panorama este un proiect minune al celor de la McSweeney's. E numărul #33 al publicaÅ£iei ÅŸi vine sub forma unui ziar de duminică. E o chestie spectaculoasă, făcută de oameni fără cine ÅŸtie ce experienţă în jurnalismul cotidian. E un manifest pentru jurnalism de calitate, pentru poveÅŸti lungi, pentru imagini ÅŸi design bestial ÅŸi pentru nevoia de menÅ£ine în viaţă aceste mijloace de distribuÅ£ie a conÅ£inutului.
E un proiect construit într-un an şi a beneficiat de munca a peste 200 de colaboratori, printre care nume mari: Dave Eggers (redactor şef), Michael Chabon, Stephen King, Chris Ware, Daniel Clowes. Miranda July, James Franco etc. Are peste 300 de pagini (120 de pagini de ziar plus câte 100 pentru revistele incluse) şi a ieşit într-un tiraj iniţial de 1,500 de exemplare.
E la ani lumină de ziarele româneÅŸti de weekend – bate mai degrabă spre NY Times de duminică (inclusiv în greutate), dar ÅŸi faţă de Times are niÅŸte chestii proaspete: 22 de pagini de comics, un supliment literar viu ÅŸi amuzant, articole supriză (un text despre un concurs de mister pentru a alege modele masculine pentru coperÅ£ile romanelor de dragoste) ÅŸi o mulÅ£ime de info-grafice actuale (mi-a plăcut la nebunie o diagramă cu miÅŸcarea scenică a celor de la Death Cab for Cutie.)
Pozele de mai jos sunt făcute de mine, cu exemplarul propriu, aşa că îmi cer scuze pentru calitatea lor. Nu transmit pe deplin experienţa de a ţine în mână, răsfoi şi citi această publicaţie unicat, despre care echipa scrie:
This newspaper is and has been an experimental prototype published by a small group of writers and designers in San Francisco. This should not be taken as our definitive statement on what everz page of a newspaper should look like. Rather, it's a grab-bag of some of the myriad things newsprint can do. And indeed there was much we did, and there was much we didn't do. (…) This process has provided great insight into the magnificient operations that daily newspapers are. How they do this every day we will never know. That they must contiue has never been clearer. We raise our caffeinated beverages to them.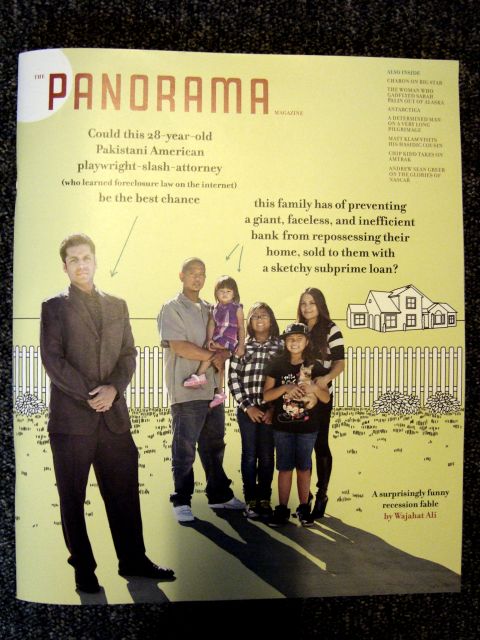 Puteţi citi aici câteva articole din Panorama. Imagini mai reuşite şi o descriere mai completă aici.
PS: Da, m-am gândit la Decât o Revistă din primul moment în care am aflat de Panorama.
Comments